Stefan Schwartz an important Presentation Inkwell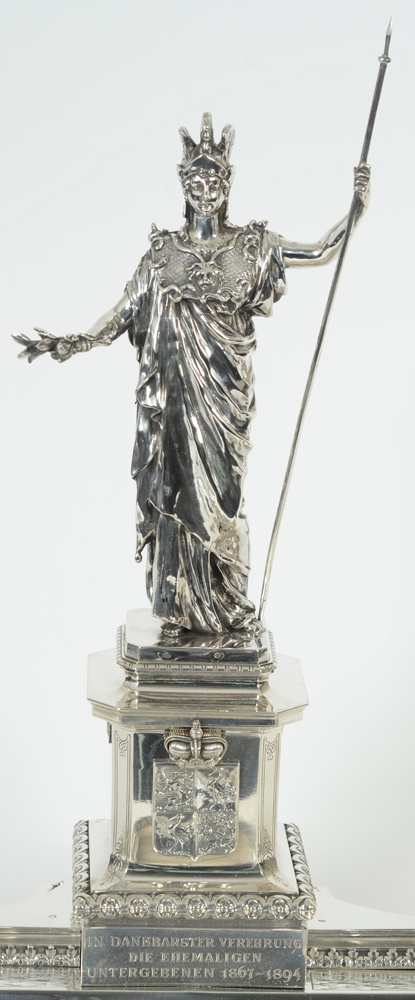 Stefan Schwarz
The silver statuette of Pallas Athena, of which the terra cotta bozetto is in the MAK in Vienna (inv. nr. Moebel - PL 1012).
Stefan Schwartz an important Presentation Inkwell
Stefan Schwartz (1851-1924) for the firm of Brueder Frank, Vienna, an important presentation inkwell, cisseled and designed by Schwartz, executed by Br. Frank in Vienna in 1894. The inkwell, with a silver statuette of Pallas Athena, was given by the staff of Prince Heinrich VII Reuss-Koestritz (1825-1906) to their superior upon his retirement. Height 36 cm, width 40 cm, depth 26 cm, fully and consistently hallmarked, signed by Schwartz and with the Reuss-Koestritz coat of arms, and with additonal inscriptions and dates celebrating the career of this important diplomat.
Period : 1850-1900
Size : Medium
Price : price on request
Contact us about this item.
We can offer you various tailor-made solutions for shipping, please contact us if you require a shipping quote. Within Belgium, insofar as we do not have to rely on third parties and / or rental of transport material, deliveries are free from a purchase of € 1000. Deliveries within Ghent are free but subject to the limitations of the circulation plan. Deliveries always take place on the ground floor.
Contact us about this item.